A new job always hides a chance of a wardrobe change, and it's a known trick of every fashionista. Who am I going to be next, you wonder - a creative fashion-artist? A sophisticated career lady? Right now, I'm in odds, time will tell. But while experimenting, I've tried a new look which embodies grow-up chic - midi skirt with big, slightly heavier boots. I've had this lacy, boudoir-style skirt for a while. Usually I wear it during summertime, but there's something newly refreshing to wear light, airy fabrics during the windy winter days.
עבודה חדשה היא תמיד סיבה להחליף מלתחה, יודעות כל הבנות חובבות הבגדים. אני אהיה בן אדם חדש, את אומרת לעצמך. משרדית! יצירתית! אניגמטית! ל משנה מהן דרישות התפקיד, תמיד יימצאו הפריטים המושלמים בשבילו. לפני שנתיים כמעט, כשעבדתי במשרד פרסום, הייתי כאחוזת דיבוק, עם חצאיות מיני למיניהן. עכשיו אני בדילמה. מוקדם מדי לומר. אבל רמזים לסגנון החדש שלי כבר צצים (מתוך המלתחה הקיימת, בינתיים) - למשל, חצאיות ארוכות ובאורך מידי. יש משהו מקסים ובוגר בחצאית באורך מידי עם מגפיים כבדות קצת, וחצאית התחרה הזו, שנמצאת איתי כבר כמה וכמה שנים ורואה אור יום בעיקר בקיץ, מרגישה עדכנית ומגניבה מתמיד. בכלל, יש משהו מרענן בבדים דקים ורכים כמו שיפון בחורף, על רקע הרוח והשמיים האפורים.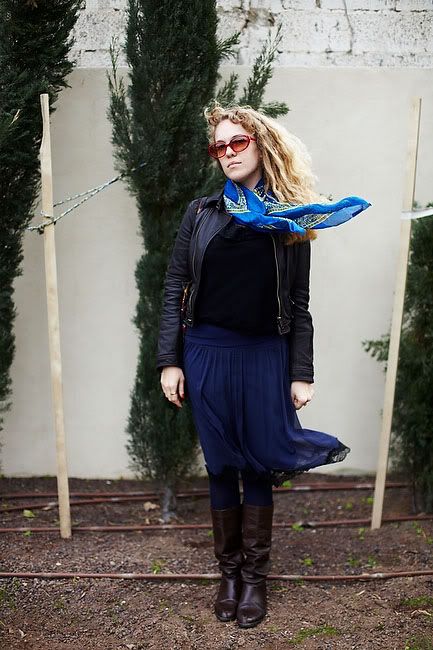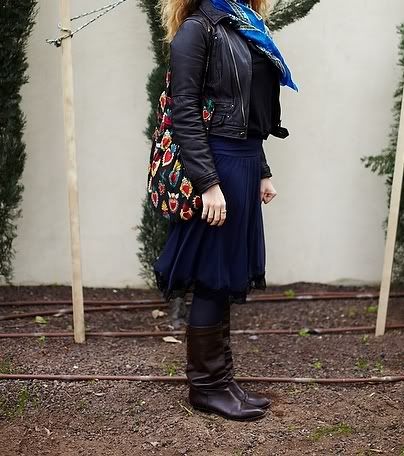 Skirt - Kookai, jacket - Castro, Boots - Vintage, scarf - Dorin Frankfurt
These photos were taken, thanks to a lucky coincidence, by a professional, people! And the skillful close-up on the boots totally does them justice - they belonged to my mom, whose shoes usually out-size me. But this pair, somehow, fits. As I've been told, they were bought during one of those famous "Italian boots" sales in Moscow. They're of excellent quality, and make my stride, to these days, slow and steady - such an opposite to the pace of my life right now.
את התמונות צילם, לשם שינוי ובצירוף מקרים מוצלח, צלם מקצועי לכל דבר, והקלוז-אפ על המגפיים בהחלט עושה להן כבוד - אלה מגפיים שעברו אלי בירושה מאמא, תאמינו או לא. אמא נועלת מידה 41, בדרך כלל, כך שאני יכולה לשכוח מ"שאריות", אבל המגפיים המגניבות האלה, שמחזיקות מעמד מעולה, משום מה מתאימות. ההליכה בהן נוחה וקצת איטית, בקצב מנוגד לחיים כרגע. וזה אחד הדברים החשובים בהן.