I've hurt my heel. Silly, tragic, uncomfortable, and pretty much impossible to step on my foot. After a while, I surrender to the limping and got myself a pair of crutches. And this is how it looks like:
קיבלתי מכה חזקה בעקב. טראגי, טיפשי, לא נוח, ואי אפשר לדרוך על כף הרגל. בעצת חבר של חברה, חובב כדורגל למוד קרבות, הלכתי ליד שרה ולקחתי זוג קביים. כעבור שבוע נפרדתי מאחד מהם. וכך זה נראה עכשיו: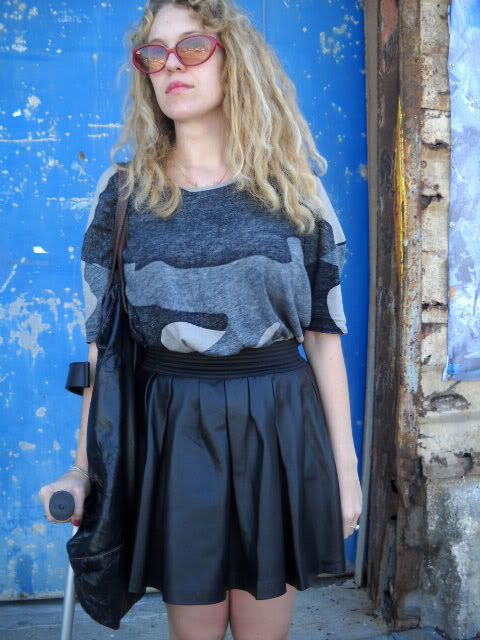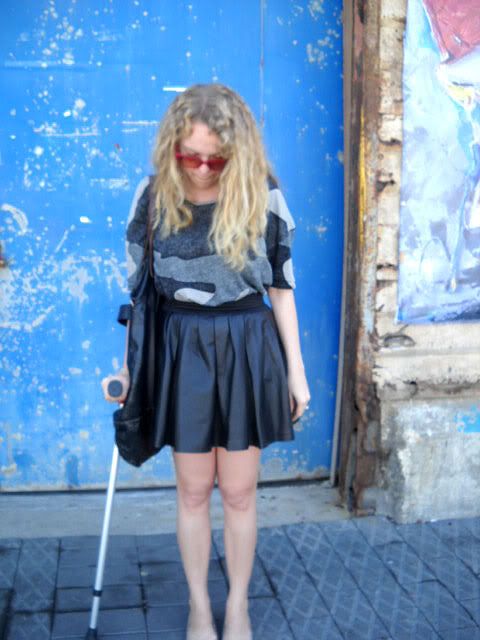 Skirt - Zara
בהשקת הקולקציה הקייצית של"קום איל פו", בנמל יפו,ההשקה הראשונה אליה העזתי לצאת ככה, זכיתי דווקא לתגובות טובות. סקסי, שיקי, מה לא, ואולי אנשים סתם ריחמו עלי. אלא שעולם האופנה הקטן אך המעודכן שלנו שונה מהמציאות הרחבה, כי מאז שאני אימצתי את האביזר הזה (אבל לא ויתרתי על החצאיות הקצרות כפי שאתם רואים) אני זוכה למבטים שלא ניתן לקרוא להם אלא "משתהים". השילוב של בלונד, חצאית עור וצליעה הוא פשוט מעבר לתפיסתם של אנשים, כנראה. אבל אני בשלי, ואפילו יש לי השראה:
Gwyneth on crutched circa 2007
Gwyneth has been my inspiration for the crutches look, no doubt - the woman remains sexy as hell in times of trouble, and I've been aiming at the same direction, hmmm.... The short leather skirt and the army t-shirt by my new addiction, Cheap Monday, are the means.
ואיך הקב משפיע על המלתחה באמת, תשאלו (ואני מקווה שלא תצטרכו תשובה מהותית לעולם)? יותר שחור, יותר קשוח, יותר זוויתי - חצאית העור החדשה, פליסה מושלם אך לא מוגזם, וחולצה מפנקת בהדפס צבאי של המותג שהופך להתמכרות עונים על הצורך החדש הזה בדיוק.