Friday afternoons are never easy, trying to combine last-minute arrangements. If you succeed, you get to reach Friday night content and full of energy, and a small yet crucial component of the task is choosing the right outfit to battle the streets in. I always go for something comfortable, something that says "yeah I'm standing here ordering coffee but actually I'm still very much asleep". This Friday I felt like back-and-white, with a little more edge. It's funny how you remember things - when I was little I used to love this gossip section in a badly written newspaper. Once I read a bit that tells how Jody Foster wasn't happy with her sheets in a hotel room, until they finally changed them to black satin and she said: "That's it. Black reflects the color of my soul". It might have very well been a fantasy of the bored columnist, but it made a great impression of the 8 years old girl I was. I still sometimes mimic miss Foster when back comes calling.
ימי שישי הם ימים לא קלים, שמשחקים על השילוב המוזר בין "סידורים" ל"מנוחה". אם מצליחים לשלב את שניהם, מגיעים לשישי בערב מרוצים ומלאי כוחות, וחלק קטן אבל חשוב מההצלחה זה האוטפיט הנכון להסתובב בו ברחובות העיר. לי הכי חשוב שיהיה לי נוח, ובאופן לא מודע גם מתחשק לי משהו פשוט ולא מתחכם, שאומר"נכון שאני עומדת כאן בתור ומזמינה קפה אבל למעשה אני עדיין ישנה". יום שישי הזה התחשק לי מונוכרום. מצחיק איך דברים מסוימים נחרטים בזיכרון: אני זוכרת שכשהייתי ילדה קטנה הייתי מטורפת על מדור רכילות מסוים בעיתון שכבר לא קיים לדעתי. פעם קראתי שם קטע על ג'ודי פוסטר שעשתה צ'ק-אין בבית המלון ולא אהבה את צבע הסדינים. החליפו לפרחוני, היא לא התלהבה. ניסו צבעי פסטל, מיס פוסטר המשיכה בשלה. רק לבסוף כשפרסו על המיטה מצעי סאטן בצבע שחור, פוסטר נרגעה ואמרה - "זה בדיוק זה. שחור משקף את הצבע של הנפש שלי". אין לי מושג האם הסיפור הזה הוא פרי דמיונו הקודח של הרכילאי המשועמם, אבל עובדה שהוא עשה רושם גדול על ילדה בת 8. עד עכשיו אני מצטטת את פוסטר המפונקת כשהשחור מושך אותי לחיקו.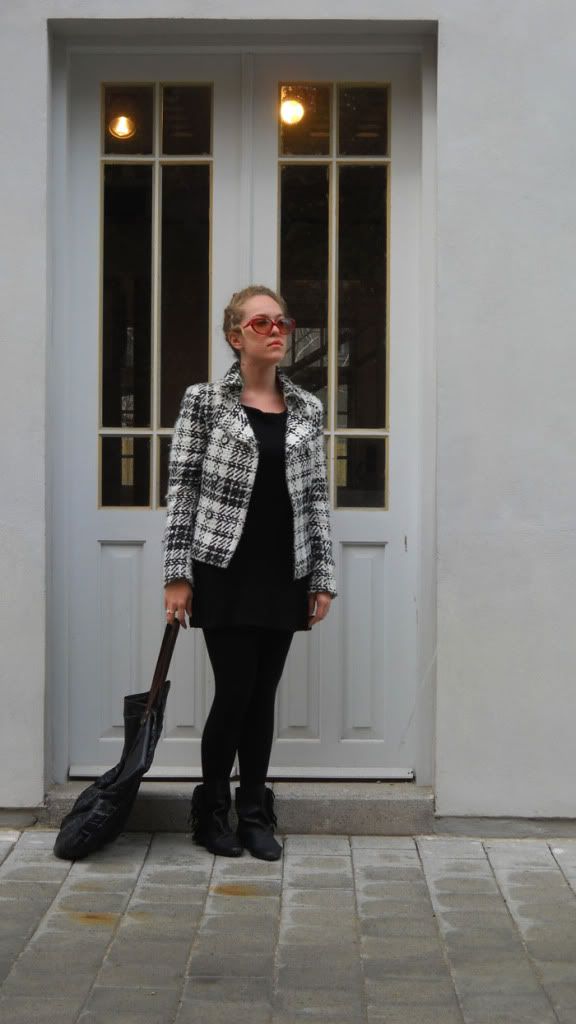 Jacket - Zara
Dress - Mikusha
Boots - Zara
The basic A-line dress is a great base for everything really. The jacket was bought so long ago, long before I recognized its' classic powers. Also, I want to point you attention to the fact my hair is pulled up - it almost never happens, but that morning I woke up with especially moody hair and just gave up. Maybe Jody Foster possessed me.
השמלה השחור והקטנה של מיקושה, בגזרת A הכי בסיסית שיש, היא בסיס טוב לכל דבר. הז'קט המשובץ נקנה לפני שנים רבות, הרבה לפני שהצלחתי להבין שמדובר במציאה על-זמנית, שלא לומר מחממת. לפעמים הוא מרגיש לי קצת קופסתי, אבל עם מיני ומגפיים זה מחליק. לסוף, תנו לי להפנות את תשומת ליבכם לעובדת היותי עם שיער אסוף! זה כמעט ולא קורה לי, שפתאום מתחשק לי להחביא את השיער שלי (חוץ מאשר
כשהחלפתי בגדים עם כתבת אופנה אחרת ושנאתי את עצמי
), אבל באותו יום שישי קמתי עם שיער לוחמני במיוחד וויתרתי. ד"ש לג'ודי פוסטר.