This blog was created, among other things, to serve as my platform for complaints and whining. If so, here's one for you - bring the winter already. Sure, I've been asking for winter since August, but I believe that at this point my wish is getting pretty well-placed. How long can you abuse the summer wardrobe for? On the other hand, summer allows you to be minimal, and this is one of the only advantages of this time of year - one piece, no need for complicated combinations (not including tights), shoes - and you're ready to go. And the absolute winner of this minimalism is my long beloved jumpsuit.
מה הבלוג הזה אם לא ערוץ לתלונות, טענות ומענות שלי? אם כך, יש לי טענה - הביאו את החורף כבר. אני מודעת היטב לעובדה שאני מבקשת את החורף בערך מאוגוסט, אבל בחיי שבשלב הזה האג'נדה שלי מוצדקת. כמה אפשר לאנוס את המלתחה הקיצית? מצד שני, הקיץ המתמשך משמעותו האפשרות להיות מינימליסטית. זה היתרון היחיד, בעיני, שיש לקיץ מבחינה אופנתית - ללא שכבות, ללא צירופים של מינימום 3 פריטים (לא כולל גרביונים), משהו אחד, נעליים - ואת מוכנה. המלך הבלתי מעורער של המינימליזם הקיצי הוא סיפור אהבה ארוך טווח - האוברול.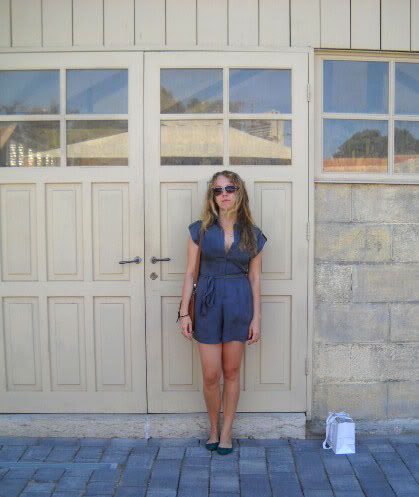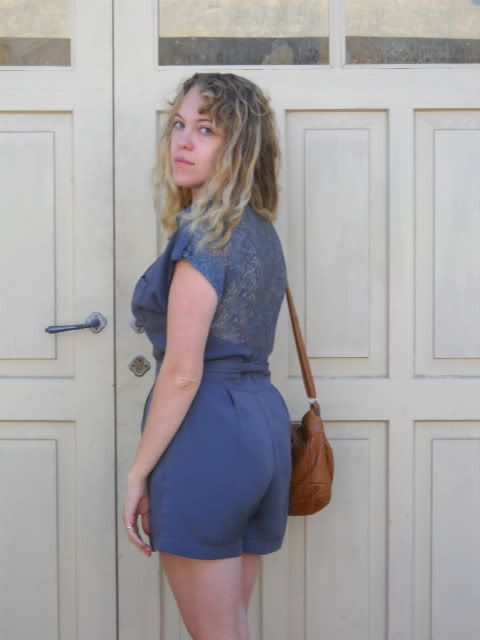 Shoes - Zara
It's not easy to find a good jumpsuit, since it has to be flattering to the upper and the lower body. So when you find one, you feel kind of surprised - as I did, when I came out of the fitting booth in the store. For this cut, I even forgave the lace on the back, a little over-the-top touch. As for the shoes, see this photo - a bit gloomy, a bit serious, with "fallen leaves" around them - as a plead for winter, or at least some kind of fall. I'll be waiting.
קשה למצוא את האוברול המושלם,שצריך להתחשב גם בחלק העליון וגם בחלק התחתון של הגוף. ומה הייתה ההפתעה שלי כשמדדתי את הדבר הנעים למגע שמצולם כאן, בביטחון מוחלט שהוא הולך קצר מדי, צמוד מדי, מה שזה יהיה. אבל לא. בשביל גזרה כזו, סלחתי אפילו על התחרה על הגב, שטיפה מוזילה. לגבי הנעליים, ראו בצילום שלהן - מהוגנות, קצת כהות, עם עלי "שלכת", בקשה וויזואלית לחורף, או לפחות סתיו כלשהו. אני אחזיק אצבעות.