A lot of time passed since my last entry. My life is taking a new direction, and with it - thoughts of taking the blog to the next level, to a bigger, brighter worlds of inspiration. But this aside, for the time being the winter refuses to come, and yet, one (one!) happy moment did manage to happen last week - I entered the mall while it was sunny and warm, and came out when it was cloudy and gray. And at this moment I took out this new vest, bought at Topshop's famous sale.
עבר זמן מה מאז הרשומה האחרונה שלי. החיים שלי לוקחים כיוון קצת חדש, ואיתו - מחשבות על לקיחת הבלוג צעד אחד קדימה, לעולם רחב יותר של השראות. בקרוב (כשאצליח להסביר זאת לעצמי) - ההסברים. בכל אופן, בזמן הזה מזג האוויר (נושא מרכזי מאוד בבלוג בזמן האחרון) נע בין חורפי לקייצי הלוך ושוב, עד שהתייצב על שמש וקור סביר. לא מספק. אני לא יכולה להסביר, לכל אוהבי הקיץ שמתאגדים סביבי, כמה נמאס לי, כמה אני צמאה לאפרוריות, לקור, ולהתרחשות קצת אחרת שתצבע את תל אביב בצבעי שפיות. ובכל זאת, נרשם בשבוע האחרון רגע יקר ומשמח, במסגרתו נכנסתי לסנטר כשהשמש זהרה בכל הכוח, ויצאתי שכהשמיים התכסו בלבן והרוח התחילה לנשב. מיד שלפתי מהשקית את האפודה הבאה, שנרכשה במסגרת ההנחות המפורסמות בטופשופ.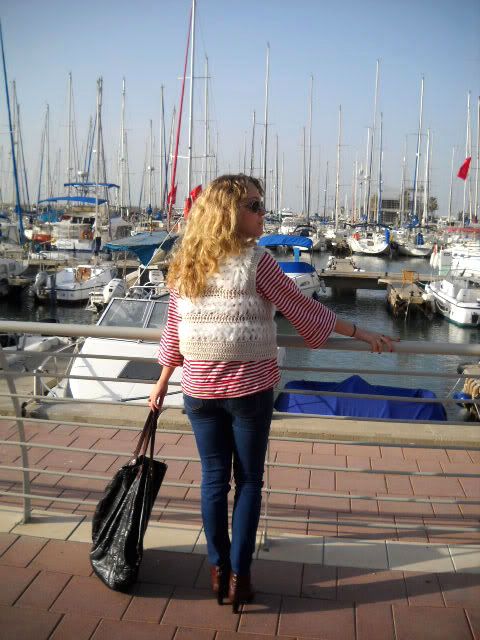 Jeans - TNT, shirt - Old Navy, Vest - Topshop, Boots - To Go
The pictures were taken by a friend at the Hertzlia Marina, after a mid-day massage, courtesy of of of those coupon sites. A spontaneous massage at the middle of the week does the following things to your perception: makes you feel richer, more successful, and as if everything is great. And if everything is great, why not to wear tight jeans, heels and a fake-fur vest, like those spoiled girls? This is also the time to admit I've become addicted to vests - so comfy, so boho-chic, and reminiscent of my childhood, a vest-full time when everything was truly great.
אני חושבת שככה אני אוהבת יותר עכשיו, כל המותגים בשורה אחת. התמונות צולמו על ידי החברה והשותפה לרבע-יום-פינוק קטרין, במרינה הרצליה, לאחר מסאז' שנעשה שם באמצע היום בחסות אחד מאתרי ההנחות האלה שמתעקשים לפנק אותנו. האמת, שמסאז' מוזל באמצע היום עושה כמה דברים במקביל - גורם לך להרגיש עשירה יותר, מוצלחת יותר, ומעניק אשליה כאילו הכל בסדר. ואם הכל בסדר, למה לא ללבוש ג'ינס טיץ צמוד ומגפונים על עקבים, ווסט פרווה מזוייפת? זה הזמן לומר שהחורף הזה, אולי לעת זקנה, התמכרתי לעניין הווסטים והאפודות לחלוטין. כמה נוח, כמה בוהו-שיק. וקצת מזכיר את הילדות, תקופה עמוסת אפודות בה באמת הכל היה בסדר.