A minute before the never-ending summer is vanishing, I've decided to finalize my "join them" perspective and wore shorts. December is the month we're talking about, shall you be reminded, but the sun is warm and the feeling is quite a European summer, so why not? Let's not pretend it's an innovative look or whatnot, but the catch is in the details.
רגע לפני שהקיץ האינסופי יגמר, החלטתי שאני אהנה ממנו דווקא. השמש בתקופה הזו רכה מתמיד, החום נסבל יותר מאשר באוגוסט, וסה"כ מדובר, כך זה נראה, בקיץ אירופאי שנחת עלינו בדצמבר. מלבב. אז בשבת האחרונה, בדרך למכירה המפורסמת של תמר קרוואן, עשיתי עוד צעד בתהליך הוויתור וההתמסרות ולבשתי מכנסיים קצרות. לא נעמיד פנים שמדובר באיזה לוק מרעיש, אבל בכל זאת - הפרטים הקטנים כאן שווים תיעוד.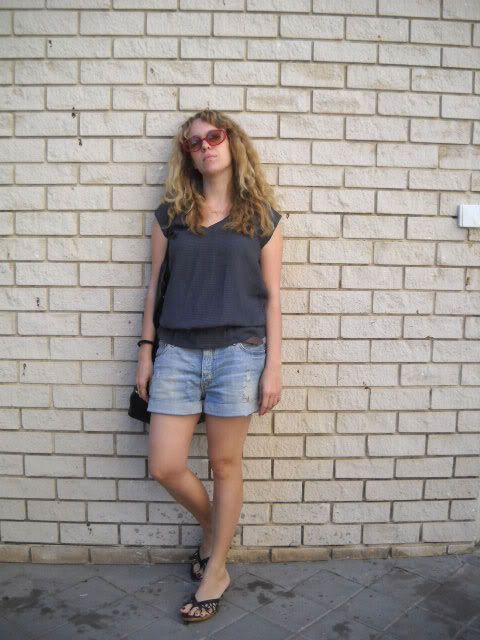 Shorts - H&M
Top - Honigman
Shoes - Fornarina
Necklace - שלומית אופיר
These shoes (clogs, more likely) were ridiculed by everyone that Saturday, with comment fluctuating from the humorous "San Tropez vacation" to much more cruel nicknames and associations What can I say? I bought them during my army service when every bit of freedom, individuality and "glamour" was bought on the spot. I still love them. The upper details aren't as opinion-evoking, they're just busy being modestly beautiful - the embroidery, the little birds - these are the components for a perfect laid-back Saturday.
כמה צחקו על הנעליים האלה במכירה, גם תמר וגם נינה, כמה לגלגו ואמרו, בניסיון להמתיק את הגלולה, "סן טרופז", ובמקרה הגרוע - "קניון חולון". אף אחד לא אוהב את הנעליים האלה, שקניתי בתקופת הצבא בקניון עזריאלי - התקופה בה כל רמז לזוהר, חופש ואינדיבידואליות נרכש מיד וללא מחשבה מיותרת. לא אכפת לי - אני שומרת להן אמונים. החלקים העליונים לא כאלה שנויים במחלוקת, וסתם עסוקים בלהיות מקסימים בשקט. הרקמה על החולצה, ושרשרת הציפורים הנהדרת, מדברים קטנים כאלה מורכבת שבת מוצלחת. אגב, למקרה שתהיתן מה קניתי במכירה - צפו לפוסט הבא...