It seems like home-made productions are becoming a new-year
tradition
here, I guess because at this time of year my desire to surprise my readers and myself with a bit creativity is awakened, and leads me to these places. This time - a bit overdone, but done my way, and still very effective, it's all about lights. And inspired by them - wishes for 2011 full of light - of a cozy reading lamp, of sun on a day off, of smiles of beloved people. Happy new year!
נדמה שהפקות - מיטה ביתיות הופכות
למסורת
, מכיוון שבראש השנה האזרחית הצורך שלי לתגמל את הקוראים, ואת עצמי, במעט יצירתיות והפתעה קלה להפקה מתעורר, ומוביל אותי למקומות האלה. השנה, נדושה אך עדיין זהובה ועשויה בדרכי, זוהי הפקת אורות. בעקבותם - איחולים לכולם לשנת 2011 מלאת אור רך ונעים, של מנורת קריאה ביתית, של שמש מוקדמת ביום חופש, של חיוכים של אנשים אהובים. שנה טובה!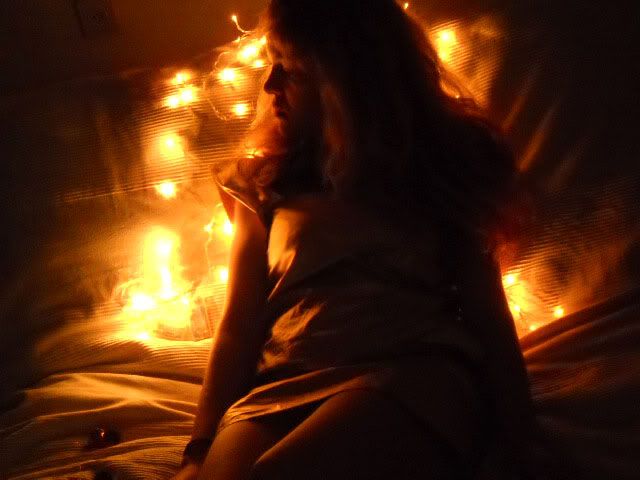 Dress - Klodet Zorea
Jewel - Primark
Lights - from Alenbi street
ולפי הפורמט המחייב של מילות סיכום - בשנה הבאה צפו להרבה חידושים, הפתעות נוספות, ועוד ועוד ועוד. כך אני מקווה. ושוב, שנה טובה, הקפידו לשחק עם המציאות ולא לקחת את עצמכם ברצינות רבה מדי, אם יורשה לי. כך החיים הרבה יותר יפים.