I admit, no trend has ever caught me recently as strongly as the ballerina trend, coming up in huge steps and spring approaches. I guess I needed two hours of Swan Lake music and Oscar worthy performance, to become a trend-follower. Luckily, I don't need shopping for this, since I have this skirt and this scarf in my arsenal:
אני מודה ומתוודה - אף טרנד לא טפס אותי לאחרונה כמו טרנד הבלרינות המתקרב לעברנו בצעדי ענק. כנראה שהייתי צריכה שעתיים הגונות של מוזיקת אגם ברבורים ומשחק ראוי לאוסקר כדי להיתפס. איזה מזל שאני לא צריכה לקנות בגדים חדשים - כי יש לי בארון את החצאית והצעיף האלה: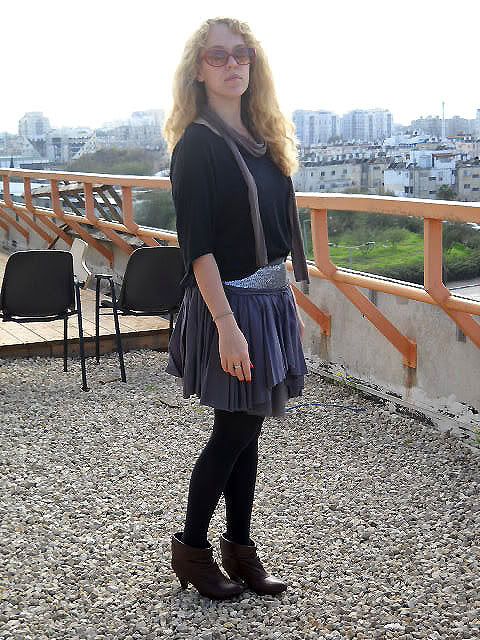 Skirt - Topshop
Scarf - American Vintage

I can not recall when and how I bought this now trendy skirt. I go through love-hatred times with it, one week thinking it's silly and too short, another - creative and wonderful After giving it a thought, I decided it feels right now to wear it with a loose top, like this black one, my favorite. And the dangling itsy-bittsy excuse for a scarf? Well, It makes me feel thin and delicate - just like a swan...
מי יודע ומי זוכר מתי קניתי את החצאית הזו, התגלמות טרנד הבלט - נצנצי הכסף, השכבות, הטול. אני עוברת איתה תקופות של אהבה-שנאה, כאשר שבוע אחד היא נראית לי קצרה וטיפשית, ושבוע אחר - מדהימה ויצירתית. אחרי נסיונות לבישה שונים הבנתי שכרגע בא לי לצרף אליה חולצות רפויות יותר, כמו הטי השחורה הזו שהפכה לבגד הכי שימושי בארון שלי. והצעיף הקטן המוזר שהוא בקושי צעיף - הוא כאן כי עושה תחושה שהצוואר שלי יותר דק ממה שהוא. צוואר ברבור של ממש. התמונות צולמו, אגב, על גג אחד הבניינים המשונים בפאתי תל אביב, ששימש חלל להצגת הקולקציה הזולה והנגישה יותר של "
לילה מיסט
". שימו לב לקולקציה הזו - שיק בלרינות ונסיכות במחיר של ריקודי עם, זה מה שמצפה לנו.