The title, in case you were wondering, is a take on "Spring time for Hitler", the hilarious song from the "Producers", but that's hardly relevant to anything. What is? That during the week I participated in a television show for the new Israeli Fashion TV channel. And this is what I wore, considering it was all about the medium-close-up.
הכותרת, למי שתהה, היא פרפראזה על Spring time for Hitler, השיר המצחיק בעולם מהמחזה "המפיקים", אבל זה סתם רגע השראה רגעי. ועכשיו לעניין האמיתי לכבודו התכנסנו כאן - מתישהו השבוע הלכתי להצטלם לתוכנית "פאשן.נט" בערוץ האופנה הישראלי החדש ב - HOT. בפעם האחרונה בה הופעתי בטלוויזיה, מטעם "סגנון", היתה בתוכנית הבוקר של חיים אתגר, וזו היתה חוויית אימים - לא מעט בזכות המפיקים, שאמרו לי שאתגר "נחמד" ו"זורם". הא! זורם כמו רגל קרושה. כל אופן, גם אז וגם הפעם הבנתי שהיות וכל האקשן מתרחש בחלק הגוף העליון, עלי לעשות דגש על מדיום-קלוז-אפ מושקע וצבעוני. הפעם, בניגוד להרבה בקרים, השקעתי מחשבה. והוספתי נעליים שמחות, ליתר ביטחון.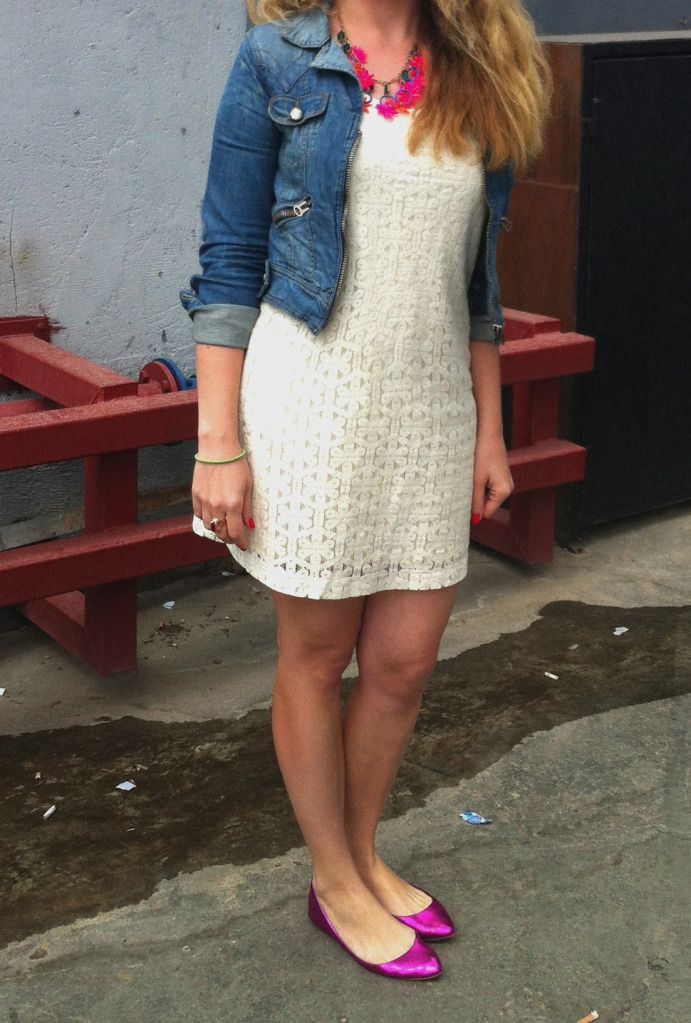 Dress - Renuar, shoes - Zara, jacket - from a friend, necklace - Liat Ginzburg
This look is a mix-and-match of items from all the degrees of the fashion scale - from a chain store to designer, and it's surprisingly fresh and spring-y.
כל הלוק הזה מורכב מפריטים אינדיווידואליסטים משהו, שהגיעו מכל קצוות הקשת הצרכנית - שמלה מרשת שאף אחד לא מאמין שהיא משם, נעליים שכולן מקנאות בהם, השרשרת האהובה עלי וג'קט ג'ינס קטן אך ממזרי שחברה העבירה לי. לוק שהפתיע אותו ברעננות שלו, כך שאפשר לסכם זאת כך: לפעמים דווקא יוצאים מטלוויזיה דברים טובים. ואיך היה? זה בקרוב.