Sometimes good willing and naive people tell me - if you like clothes so much, why don't you become a designer? Go tell them about consignation and design school. But ever so often I get what you may call a "creative itch" to do something - not from scratch, but rather along the lines of customizing. The pending trend - dresses made of skirts! On this thing here, a cool little dress made of a skirt I brought from Thailand, I though for a long time, yet it took a week to make. Two visits to Bela, my seamstress, and 40 shekels later, here we are.
לעיתים יחסית קרובות אני שומעת מאנשים חמודים ותמימים - "אם את כל כך אוהבת בגדים, למה לא הפכת למעצבת?". לכי תסבירי להם על קונסיגנציה ועל שנקר. עם זאת, לעיתים מתעורר בי מה שאולי אפשר לקרוא לו יצר ספורטיבי להכין משהו, לא מאפס - אלא יותר בקווי ה - customizing. המגמה המרכזית: שמלות מחצאיות! על הגחמה שלפניכם, שמלה מחצאית שקניתי לפני כמה שנים בתאילנד, חשבתי זמן רב, וכנראה חיכיתי לקיץ. היישום היה דווקא פשוט, בעזרתה של בלה התופרת (מרחוב נחמני... תודה בלה!), שלקחה לי 40 שקל.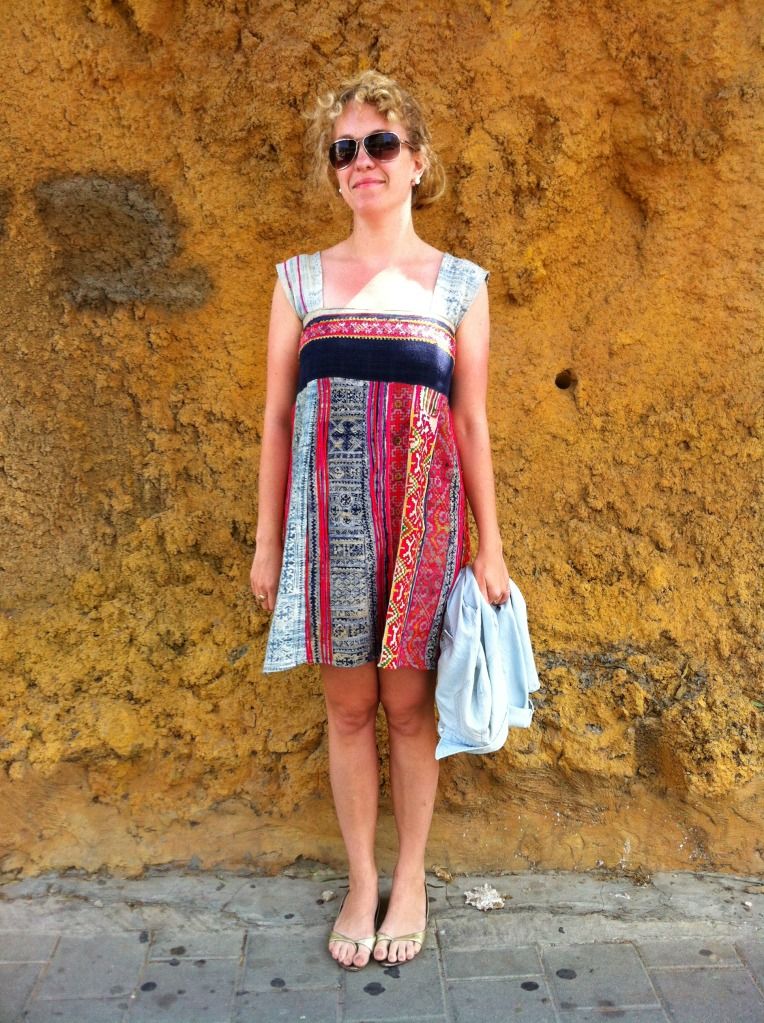 Dress - tailor made, shirt - Lee Cooper
I'm very happy with the result - whatever was weird and awkward about this hand-made skirt became cool in the dress, the sleeves (a last minute idea) are flattering, and the embroidery on the jeans - a dream. The biggest bonus is the comfort - it's like wearing the worlds' coolest blanket, if you feel my reference. Plus, I love this awesome shirt I've been wearing all winter long. Like the dress? Go out and turn a towel into a top, curtains into a dress (Scralett O'Hara did it, why can't you) and go crazy. Even if the neighborhood
seamstress will end up doing all the work.
אני מאוד מרוצה מהתוצאה - מה שהיה משמין ומוזר בחצאית המיוחדת הזו הפך למגניב בשמלה, השרוולים (הברקה של הרגע האחרון) - מחמיאים, והרקמה עם הג'ינס, פשוט חלום, והנוחות היא הבונוס. זה כמו ללבוש את הסמיכה מגניבה בעולם, אם אתם מבינים את הרפרנס וחשים בחיוביותו. ואני גם מאוהבת בחולצה הזו, שחרשתי עליה החורף. כל ארון צריך חולצת ג'ינס טובה, וזו בדיוק אחת כזו. בקיצור - אני מאושרת, ואני מפצירה בכם לצאת ולהעיז, להפוך מגבות לחולצות, וילונות לשמלות (סקרלט א'והרה עשתה את זה,למה לא אנחנו?) וכמובן - חצאיות לשמלות וההיפך. גם אם בעזרתה של התופרת השכונתית.