As always around this time of year, we are bombarded with "gift guides" – collages of sweet little nothings and knick-knacks that magazines want you to buy. Do you really need a stuffed bear shaped bottle warmer? Irrelevant. Well, as Christmas-Chanukah-New Year is in full swing already, I decided to come up with my own gift guide. And just to eliminate doubts, I DO need those gifts, people! Maybe you'll find them as adorable as I do.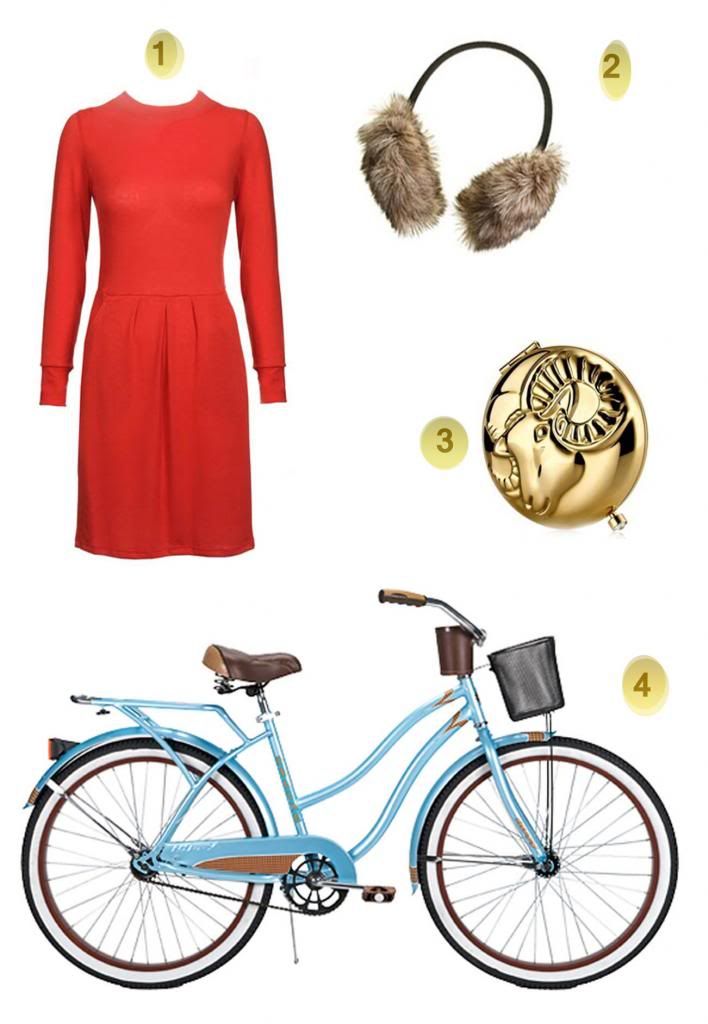 1. Every girl could use a pretty red dress, especially around this time of year. This
גרטרוד
creation is somewhat conservative, yet subtly sexy.
2.
Madewell
ear muffs, to keep me warm during the cold rainy days Northern California can surprise you with. I'd go with the classic beige tone though – nothing pink or flashy. These ones are pretty perfect.
3. A bespoke limited edition powder compact with my zodiac sign on it (there are plenty of other signs to go around, of course) –
Estee Lauder
somehow managed to read my mind on this one.
4. A cruiser bicycle – sky-blue, light and fast like the wind. I wouldn't mind trading my old scruffy bike for this beauty.
5. Cooking books! One can never have enough. I fell in love with Yotam Ottolenghi's "Plenty" a while ago, as it makes me crave vegetables I've never heard of before. "Edible Selby" is a beautiful, wacky second choice.
6. So what if I've never seen a Bond movie? O.P.I The Living Daylights polish, from the
Skyfall collection
, is the perfect choice for the holidays – glittery, happy, a little mischievous.
7. A chunky sweater – did I mention it's cold here, people? Neutral color, comforting texture – H&M folks know how to make them.
8. When the weather is grey and gloomy, I turn to color blocking. I saw these, by
Coloblock Shop
on Etsy, in Instyle's gift guide actually, and fell in love with them on the spot. Sometimes gift guides do come handy.
9. Pickles and jerky – food passions for the rustic girl. When I found out about this clever
New York Mouth
service, promising you'll get a monthly package of tasters (how awesome is that?), I almost picked up the phone right away. Too bad the delivery is so limited.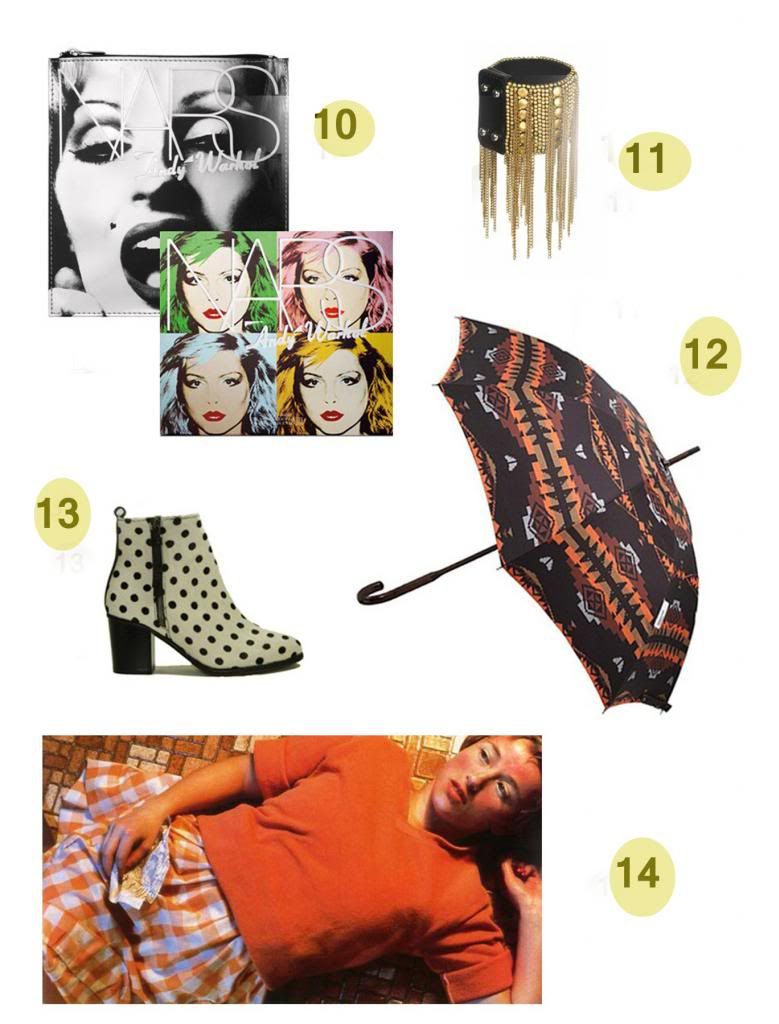 10. I wouldn't call myself a Andy Warhol fan. Cute packaging, however? Always a plus.
NARS collaboration
with the "15 minutes of fame" artists' work it too good to resist, especially when Debbie Harry is gracing the eye shadows box.
11. I love big jewelry as much as I like it colorful. As I'm always annoyed by the slippery qualities of the bracelet, a cuff is a far better choice – this
Fiona Paxton
bling (waiting for the Israeli readers at Alma botique) is a great candidate.
12. Hell yeah, a Navajo printed umbrella! That's all I have to say on this one.
13. Who could resist a dotty shoe? Those Opening Ceremony booties are fun and quirky enough, but also appear to be comfortable.
14. And finally, something for the soul. I was totally blown away this year by
Cindy Sherman's
exhibition at SFMOMA – her images are so powerful, and her transformations are spot-on. If I can't have an original piece of art by this amazing woman, a print will do.
Happy holiday season, friends.