Let's just say I watch a lot of downloaded movies lately, and I'm currently in some kind of an indie vortex. I search for the artiest, least advertised, cutest movies and watch them in bulks. A lot of them tend to disappoint ("Save the Date"? Really?), but for every string of neurotic, ever whining characters, there's a little precious gem.
Lola Versus
, starring my new favorite Greta Gerwig, is such an indie-gem. Luckily, it's also a style lesson, 5 of them actually.
1.
Denim goes a long way
. Gerwig's Lola juggles different styles of denim, from girlie to casual to business-like. My favorite combo is a buttoned-down jeans dress with a navy blazer.
Mix with:
An attractive, t-shirt clad boyfriend (the dreamy Joel Kinnaman) and you're ready to go.
2.
True friends match prints.
Lola's best friend, hot and fast-talking Alice, brings out the best in her. They match girie dresses for a picnic party, and when they meet for lunch, Lola gets rid of her sweatshirt.
Mix with:
A bright food cart and a some quality time together.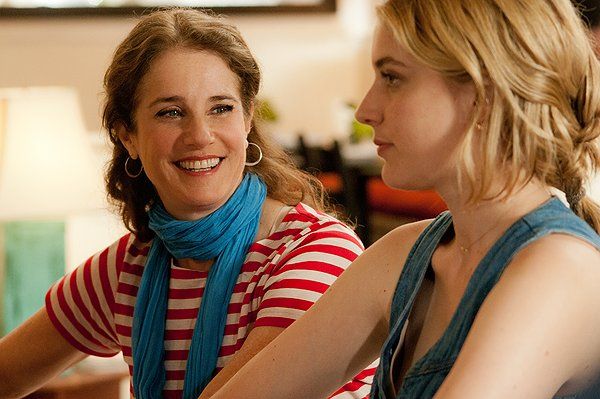 3.
A stylish mom is valuable
- Lola's mother owns a restaurant, which prevents her from preaching, moralizing or nagging, all the things moms do if you're single.
Mix with:
You can never go wrong with stripes! Never.
4.
The sexiest boyfriends live in the messiest places.
Lola's boyfriend is an artist, but of course. His futon resides in the middle of a workshop, and this is apparently a big turn-on.
Mix with
: Books, cool pajamas and lots of L-O-V-E.
5.
Stylish indie movies are made by attractive people
. This is Daryl Waine, the director of Lola Versus, and his girlfriend Zoe Lister Jones, who co-wrote the screenplay and plays Alice. They both have great faces, cool attitude and sort of re hair. Sweet.