Dear friends! You may have noticed I've been offering all kinds of content lately, and this time I'm happy to present a new project: Fashionista/Bad Actress, which will shed the light upon amazingly fashionable actresses who simply can't act. The first in line: Kate Bosworth.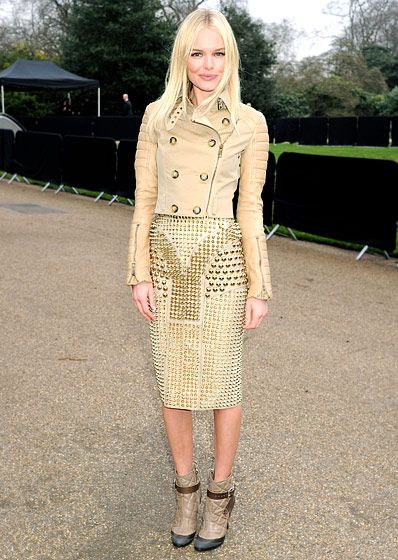 Showing off in Burberry
Kate here is 30, blond, has different eyes like David Bowie and the body of a runway model. No wonder stuff look so great on her. But unlike many skinny actresses, Bosworth also has a good stylist. Case in point: she always wears fashion-forward, hot-right-now designers, and looks as if the whole spring-summer collection was made entirely with her in mind.
Making Jil Sander work
Plus, she's on point with trends. Be it spring leather, fringe, slits, whatever, Kate's got it. So the fashion part is right, for sure - but can we call her "actress" first, fashionista second? I don't know, I don't know. For once, I can not remember a single movie she's been it. Can you?
Pretty in Parabal Gurung
Let's think harder - or better yet, use IMDB. The remake of
Straw Dog
s.
Blue Crush
? Anemic and boringly good-looking, she's usually a shadow of her fashion-cred, pouty, barely-there sexy and plain boring. But at least she's dressing well! Do you agree? Disagree? Tell me in the comments.
And she has a boyfriend to match....