In the spirit of summer, the season of colorful make up and tan, it might be the time to acknowledge a fashion blog can not only be about the clothes. Unless you're someone like the Stylish Wanderer, taking pictures with your face off, it's usually there, a part of your "presentation".

SO... I've decided to indulge in an 'all times favorites" make up post. Not that I'm a pro, but after working for almost two years as a beauty editor, I was able to go through a wide range of products and pick my ultimate favorites. I'm a fan of the natural look, and love bright lips and nails. These are the things that keep my face up.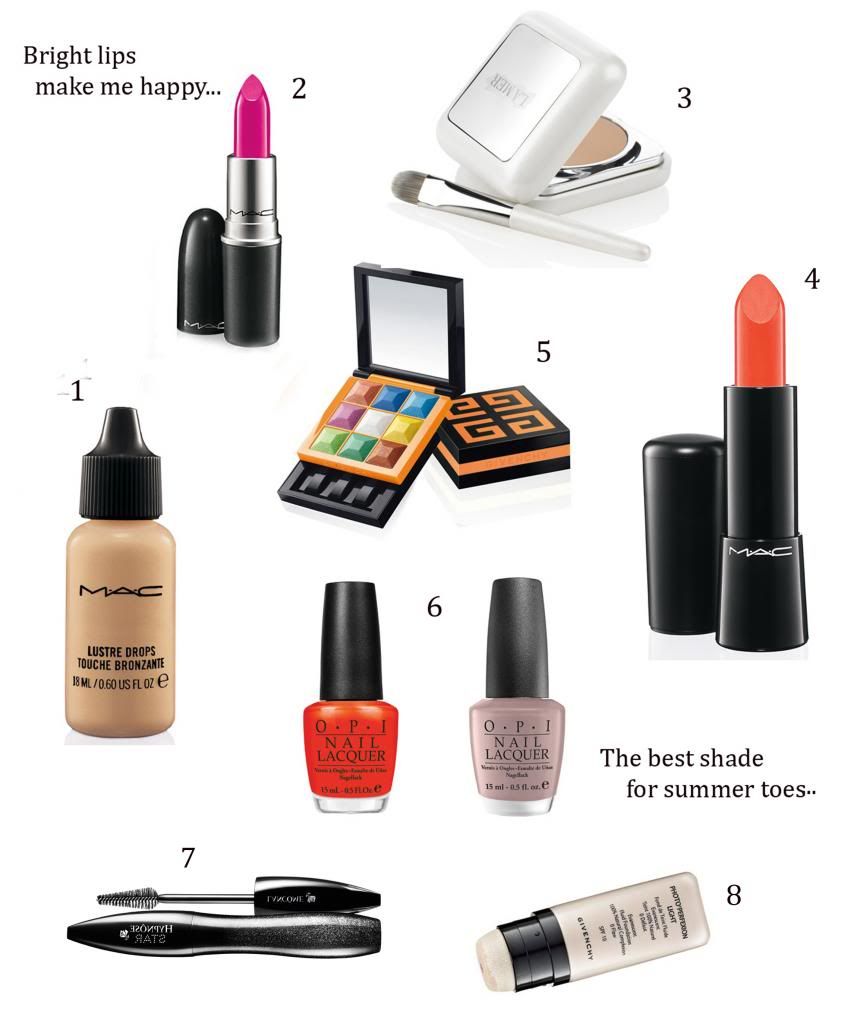 1.
M.A.C
golden Lustre drops - the ultimate eye shadow, highlighter, you name it! Plus, this tiny bottle lasts for years.
2.
M.A.C
lipstick in Show Orchid and Utterly Delicious (4) - orange and fuchsia are my favorites.
3.
La Mer
concealer - I have dark circles since I was a little girl, and coverage doesn't get any better then this. Again - a little package will last a lifetime.
5.
Givenchy
Le Prismissime 9 Colorsbox - happy neons, blues and neutrals - when I want a colorful eye (usually after reading too many magazines), I go for this compact pallet, which comes with three kinds of
brushes.
6.
O.P.I
nail polishes in Roll in the Hague and Tickle Me Fancy - the first, a happy orangy-red. The second, a delicate pink with a hint of purple. Muted toes and screaming nails in the rule I live by.
7.
Lancome
Hypnose Star mascara - I've been a Lancome fan since my mom first introduced me to it, and used their mascaras for ever. The Star is a true bliss - curling, for real, and rich without clogging.
8. Givenchy PhotoPerfexion Light Fluid foundation -I might actually use make up once a month (for a very, very very special occasion), and this one lives up to its fancy name. The sheerest of sheer, and
highly m
oisturizing.
With that, I'm concluding my list. Expect more cosmetic goodness to come, and share your favorites in the comments.