So, as promised, Chicago! I arrived here at the coldest season of all, and right upon arrival the "windy city" made its intentions clear – to make my nose fall off. With that being said, once you stock up on gloves, hoodies, a big coat and some patience, things start looking up.
Unlike the "up and coming" Portland, Chicago doesn't have anything to prove – it's an established myth-maker and society-shaker, and its food has a country-wide fame. Haven't been? Then you must have seen it on the American version of "Shameless". But if you arrive here fresh-faced and unassuming, this is what you may find out: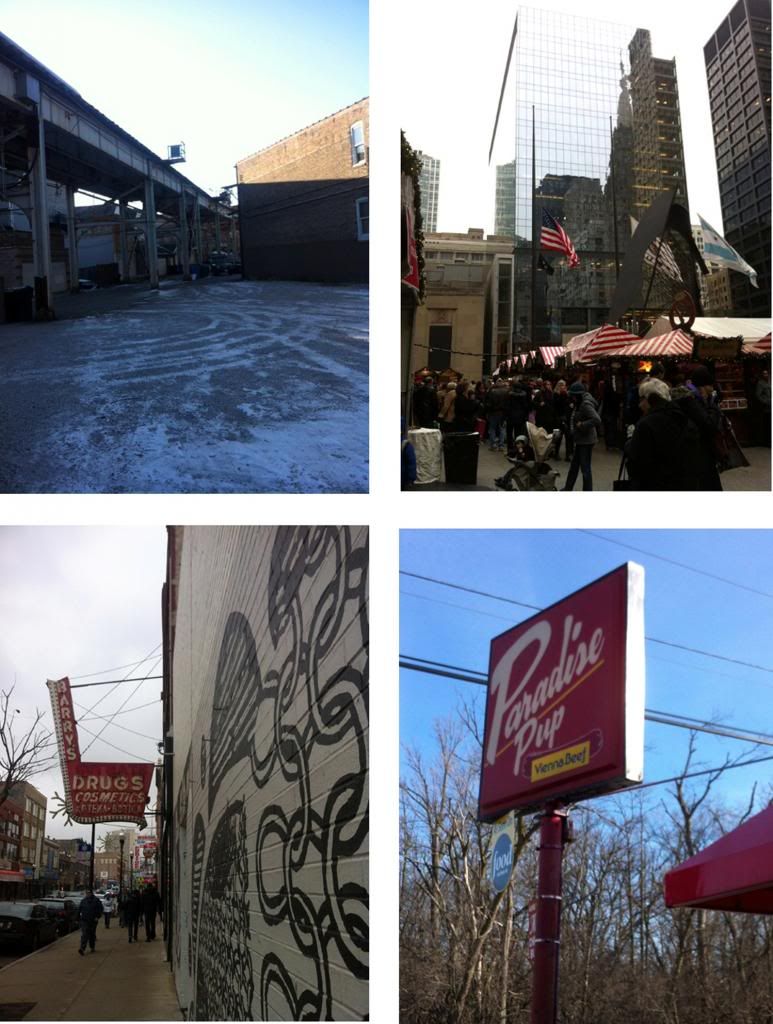 From top lef, clockwise: The L "subway", the local Christmas market
the famous Paradise Pup, the graffiti
 The queen of neighborhoods
Although the downtown features an impressive skyline (see, New York, you don't have to cram all the buildings so close), and is the home of the very excellent
Art Institute
museum, Chicago famously prides itself on the little cozy neighborhoods. The attributes of a cool neighborhood? Graffiti, local hipsters (I know this word is not great anymore – but they're here and they're still hipsters) and cute little fashion shops (coming next week) and eateries. I stayed in Wicker Park and enjoyed it immensely – the amount of good second hand fashion is second to none, but also fun, from what I had time to check out, are Lakeview and Wrigleyville. Three busy streets, hours of browsing: Milwakee (Wicker park), Armitage (Lakeview) and Broadway (Wrigleyville).
Urban jungle
When they say a place is "urban", whatever do they mean? After visiting Chicago, I got the point. Something about the architecture, all brick and panels, combined with the winding, minimal streets and the subway, which is not a subway at all – it all results in a tough, rugged (yet charming) "concrete jungle" feel. They say come summertime, and Chicago turns into a bike-ridden, sidewalk-boasting resort, but during the winter I find it kinda hard to believe.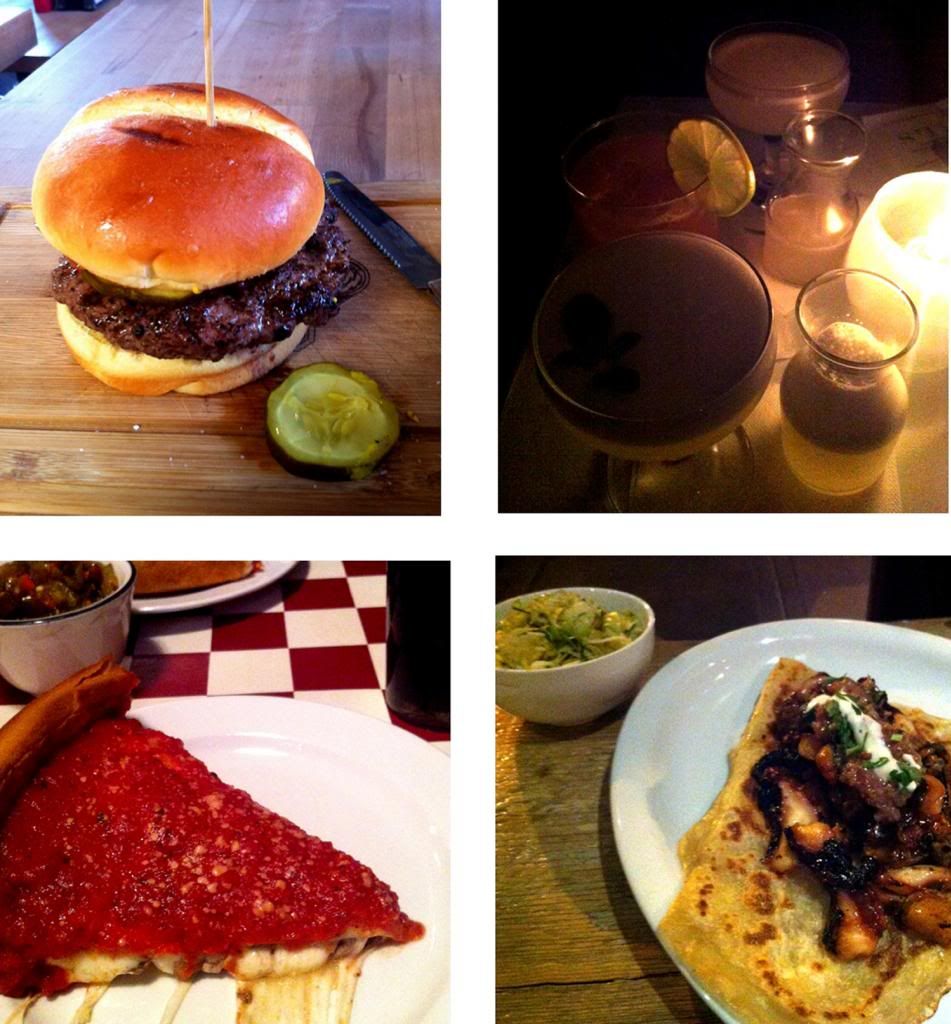 From top left, clockwise: Butcher and the Burger hamburger
Violet Hour cocktails, octopus Gyro and the deep dish
Elevated street food
Chicago-native "classic" grub is heavy, fatty and very often lacking nuances, the kind of food some people may enjoy through the cold weeks. This is not New York or San Francisco, although seeds of creativity constantly break through the asphalt in recent years. Some of you may be familiar with the most famous Chicago gimmick – the deep dish pizza, a concoction where the tomato sauce hides a (thick) layer of cheese and a (thicker) layer of baked dough. Yummy, but not as tasty as it's entertaining. If you look harder though, you may notice the more successful attempts of playing with street-food. I stumbled on three of them, completely by accident.
Smart hamburger:
At the very root of Armitage street, there's a little smoky corner place named
Butcher and the Burger
. Inside, couples and individuals sit submissively and chew of a very good hamburger, made from fresh beef. At the register, you choose your meat, your seasoning and you toppings, and if your eyes wander, there's a shrimpburger and some kind of complicated Japanese-inspired creation. Then you sit and wait, until a relatively small (a big plus for me!) and a very juicy hamburger arrives. Then you join the chewing folk.
Twisted taco:
The taco is an acclaimed star of the Mexican cuisine, and if you like it big, meaty and filling, Chicago has a lot to offer. But an especially yummy taco was located, the horror, at the very center of hipsterdom, right on Milwakee avenue, at a new and sophisticated looking spot called, ironically,
Antique Taco
. I had a light, flavorful fish taco, filled with tempura cod, smoky red cabbage and siracha mayo, and every bite threw me back to California. Also worth noting: the yummy banana Horchata and the stylish crowd, trying not to drip salsa on their Urban Outfitters sweaters.
Surprising Gyro
: on a rainy day, I ran into
The Peasantry
, a hidden little place that has "elevated street food" for a slogan. The menu is filled with scary-sounding sausages, duck confit hamburgers and three clever versions of Gyro, the Greek shawarma best known as a late-night drinking crave. I had the octopus Gyro, and my eyebrows jumped up with surprise at every bite. The food is not very expensive, but the portions are not huge, so plan accordingly. Or bring your sugar daddy. Just kidding.
And one more thing:
An ex-local friend (and the girl that did my highlights!) independent of one another suggested
The Violet Hour
as a good cocktail spot. I took their advice, brought some local girlfriends, and what can I say – this is the ultimate "local in the city" experience. No sign on the building, a line at the entrance, an atmosphere of hyped-up glamour and secrecy – of course you feel awkward and silly, but I think the occasional standing-in-line-excited-for-something-unknown ritual keeps you young, you know? Inside, there's no standing with your cocktail, only sitting in huge armchairs or by the bar, the lighting is dim and the music is seductive. Not a "sexy" place of the sweaty, pick-up kind, but a classy hangout worthy of a new dress. Also not allowed: smoking and playing with your cellphone. Allowed: making out with the date from OK Cupid or chatting the night away with your new friends.