After my favorite make up and skin care posts, all there's left is to attend to the rest of the "best" - additional items that make me feel pampered along the way. Perfumes, hair products, you know, all these things that result in you being unable to close your toiletry bag when embarking on a "spontaneous" trip of sorts. Anyhow, here they are: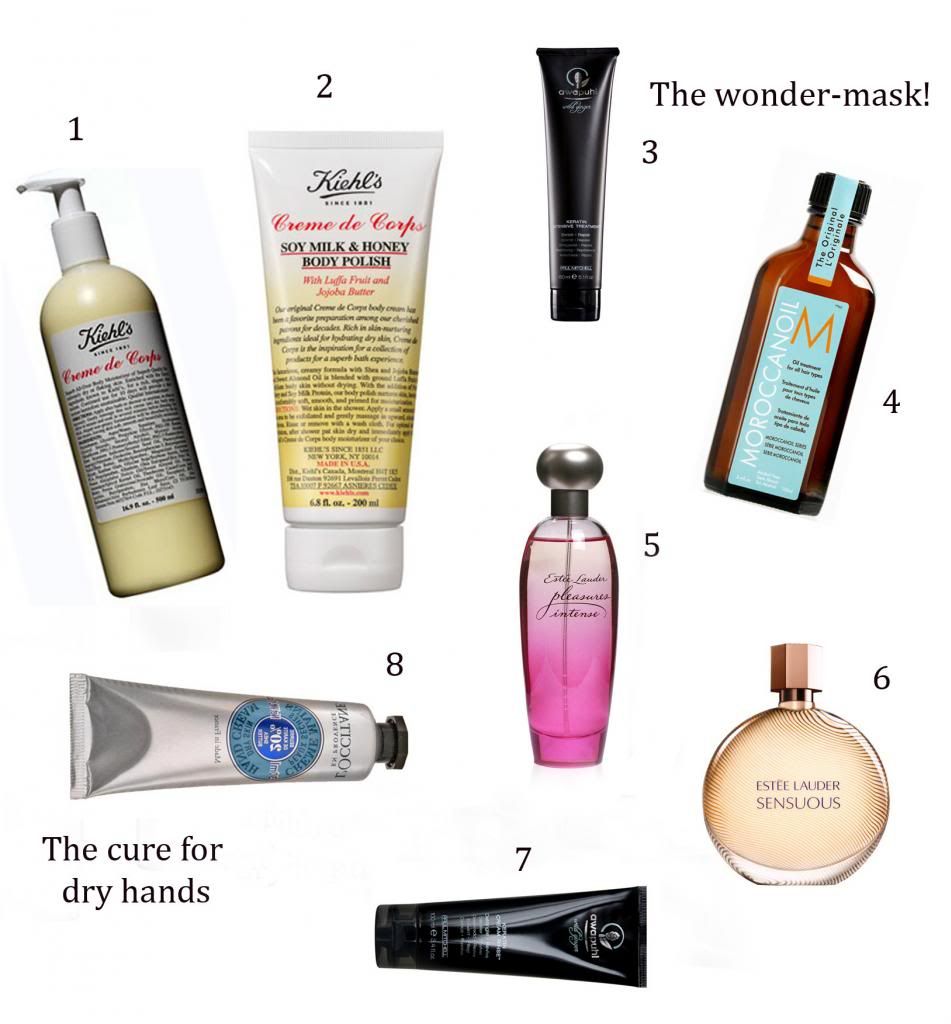 1, 2. Kiehl's Creme de Corps body lotion and peeling - I think it's kind of funny to use a body product with the word "corpse" in it. I know, it's french, and yet allow me to be blissfully ignorant for a moment. These products smell divine, and as Kiehl's recently opened in Israel, no longer a faraway dream.
3,7. Paul Mitchel Awapuhi keratin mask and shampoo - I'm usually skeptical about hair treatments, let along ones with exotic names. But this duo smooths even the frizziest hair and leaves it soft and unbelievable. My hair! Soft!
4. Moroccanoil - Just the thing to apply to curly hair after shower. Tried other oils, they just won't do the trick.
5, 6. Estee Lauder perfumes, Pleasures Intense and Sensuous - my mom used to spray herself with White Linen, back in the day in Communist Russia. I'm less sentimental, but the flowery smell of Pleasures reminds me of my childhood and of the smell in our vacation house's orchards. As for Sensuous, I literally fell in love with it in the airport one day - so cozy and warm.
8. L'Occitane Shea Butter hand cream - The only, and I repeat, the ONLY hand cream that doesn't annoy me with too strong of a scent.